Transformers
Technic specification and solutions
We make single-phase transformers up to 3000 VA performance with voltage conversion up to 1000 V and stream load up to 50 A according to the wishes of the customer. Transformers are made to be built-in with
IP 00 covering. From the view of safety from dangerous electrical shock, they are built first-class. They are designed for continuous us with natural cooling and are classified in thermal isolation class A and E.
For request of customers we can make vaccum impregnation (VPI) low-emsion resin DuPont E4011.
We deliver these kind of transformers
| | | |
| --- | --- | --- |
| Normal transformer | TTN | EN 60 742 |
| Autotransformer | TTA | EN 60 742 |
| Emergency safe transformer | TTB | EN 60 742 |
| Separator safe transformer | TTO | EN 60 742 |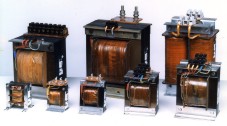 All transformers made in our company are tested according to the appropriate Czech standard norms. According to the wishes of our customers, we are willing within the boundaries of our abilities to also produce other different transformers. We recommend prior consultation with our technicians.
Delivery time
Times of delivery depends on the volume of the order. A small number of pieces can be made in one week.
Warranty
We guarantee good function and completion of our products of previously arrange agreements with our customers.
Single-phase power transformers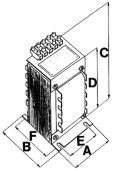 Trafo type (abbr.)
Perfor mance (VA)
Dimensions (mm)
Weight (kg)
Typ of construction
A
B
C
C max
D
E
F
TT.
10
50
40
88
88
68
30
35
0,5
EI 60/16
TT.
15
50
50
88
88
68
30
39
0,6
EI 60/20
TT.
20
63
50
100
100
80
30
37
0,8
EI 75/20
TT.
25
63
55
100
100
80
30
42
1,0
EI 75/25
TT.
30
63
60
100
100
80
30
47
1,3
EI 75/32
TT.
50
80
60
120
140
100
55
53
1,7
EI 96/25
TT.
85
80
68
120
140
100
55
60
2,5
EI 96/32
TT.
125
100
80
145
165
125
66
58
3,5
EI 120/32
TT.
200
100
88
145
165
125
66
65
4,6
EI 120/40
TT.
315
125
96
173
193
153
79
80
6,8
EI 150/40
TT.
400
125
106
173
193
153
79
90
10,0
EI 150/50
TT.
500
160
115
215
250
195
14,5
EI 192/50
TT.
800
160
130
215
250
195
17,5
EI 192/64
TT.
1200
160
150
215
250
195
24,5
EI 192/80
---